In Loving Memory of Freckles
We lost a part of our family and a piece of our hearts this past week. Freckles was our baby girl that will be missed so much. We feel like a piece of our family is now missing. Even though we are saddened that she is gone we know she is so much happier now. She is now running in the most beautiful fields at Rainbow Bridge waiting for the day for us to come meet her. One day we will get to see her again but for now we are comforted in the thoughts knowing she's watching over us.

In 1994 we found her needing a home on a friend's front door step. From that moment on we knew she would be apart of our family forever. Her favorite times were when we would all grill-out in the backyard. She loved waiting for a slice of cheese to drop so that she could eat up. The one thing she loved to do was to eat. Eat what you may ask, everything! She would eat anything from peanuts to popsicles. The one thing that we'll always remember most about her was her special smile. When she smiled it went from ear to ear. You really would never see her not smiling when there were people around. She loved people so much. I can't say the same for other dogs. She was an only child and that's exactly the way she wanted it. She was a great backyard protector, she would bark and bark to make sure people knew she was there. The trail that she made around the backyard fence was like her little race track. A few nicknames we loved calling her was "Frey Girl", "Freck" and "Freck-a-Weenie". She came to all of them.

She gave us an incredible 14 years that we'll never forget. She left us without being in a lot of pain and she knew God was ready for her to be with him. Freckles, we love you and we will have a special place in our hearts for you forever. Thank you for being the most loyal and incredible dog to us, we can't wait to see you again one day in heaven!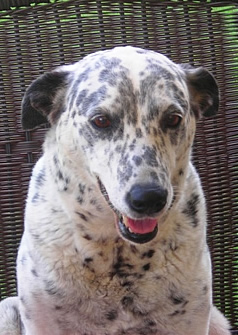 Freckles - 1994-2008